EXPAND YOUR BUSINESS INTO A MINISTRY PLATFORM. BRING PEOPLE TO CHRIST WITH CUSTOM GOSPELS OF JOHN
Did you know that you can use your influence to share the Gospel?  
As a business or church leader, it's hard to know if your platform is having an eternal impact or even how to implement effective evangelism in your scope of influence. It can leave you worried that you are not doing enough to personally share Jesus. Maybe you've struggled to identify the most impactful ways to accomplish this in the context of business or the church.
At The Pocket Testament League, we get it. That's why we created a simple method to sharing Jesus that works for anyone. In fact, over the last decade we've seen hundreds of influencers, like you, share Jesus more than 3 million times using the organizations that God has entrusted to them. No matter your platform, custom Gospels are a great way to share the Word of God.
---
Part of a church or other organization?  
You can use the organization or ministry networks that God has entrusted you to lead to share Gospels, too. No matter your platform, custom Gospels are a great way to share the Word of God.
Here's how it works!  
Our team will work with you to create your unique Gospel Sharing Plan, tailored to your organization.
Together we will design and produce a customized Gospel of John. The outside cover is completely customizable in full color and the inside cover is available to add additional messaging for the reader.
Once finalized, we will go to print. We go to print twice a month (once towards the beginning and once towards the end). Once your order is sent to the printer, the Gospels normally deliver within 3-4 weeks.
Once your Gospels arrive, our team will help you and your team implement your Gospel Sharing Plan, provide ongoing support, and cheer you on as you begin to see more people invited to meet Jesus through His Word!
You can view sample Gospel covers for your type of ministry or organization below.
Business Examples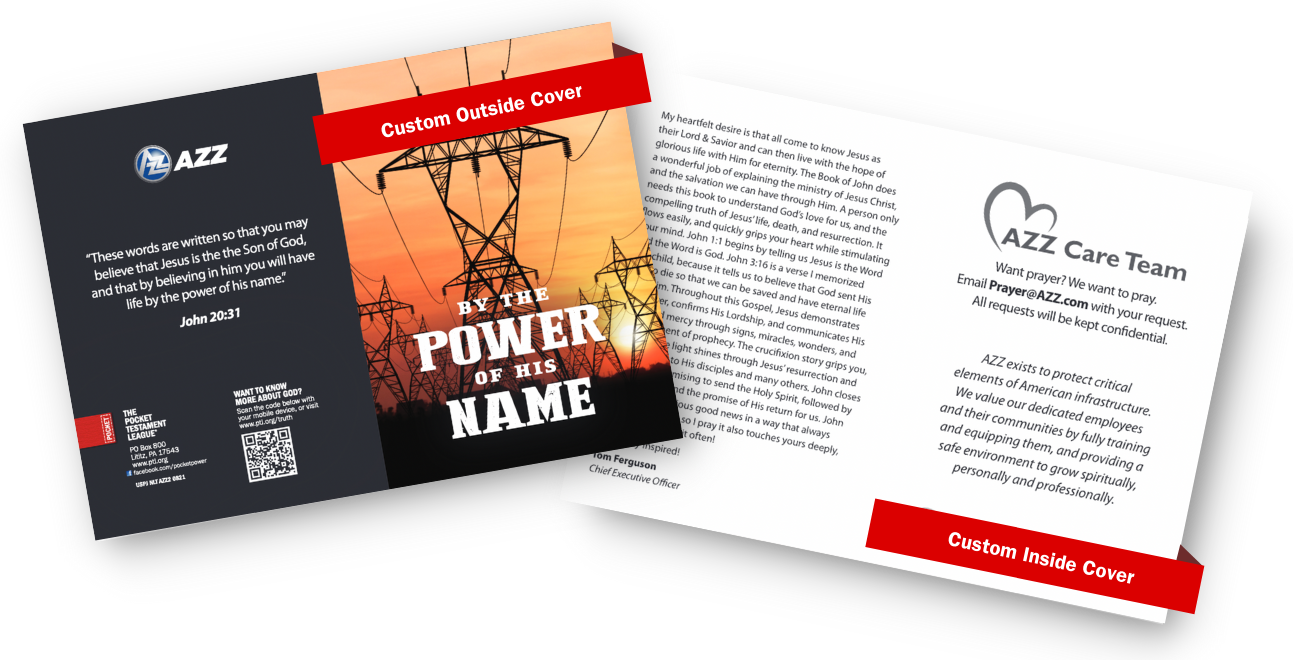 Ministry Examples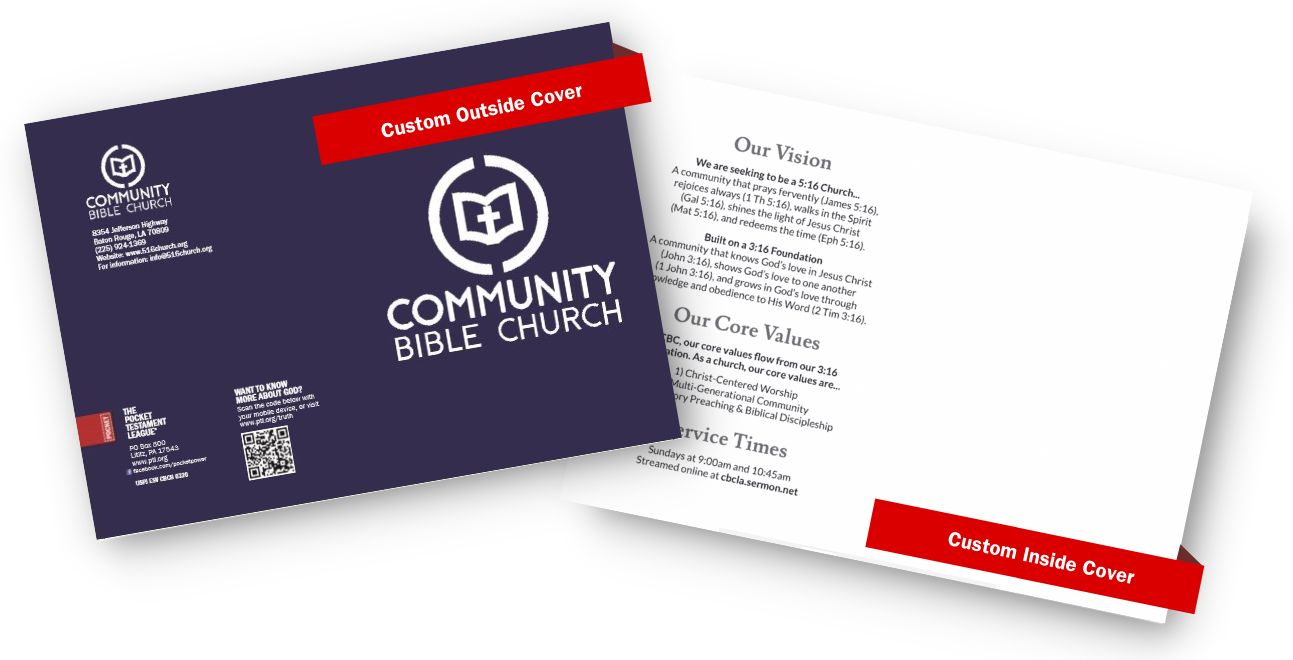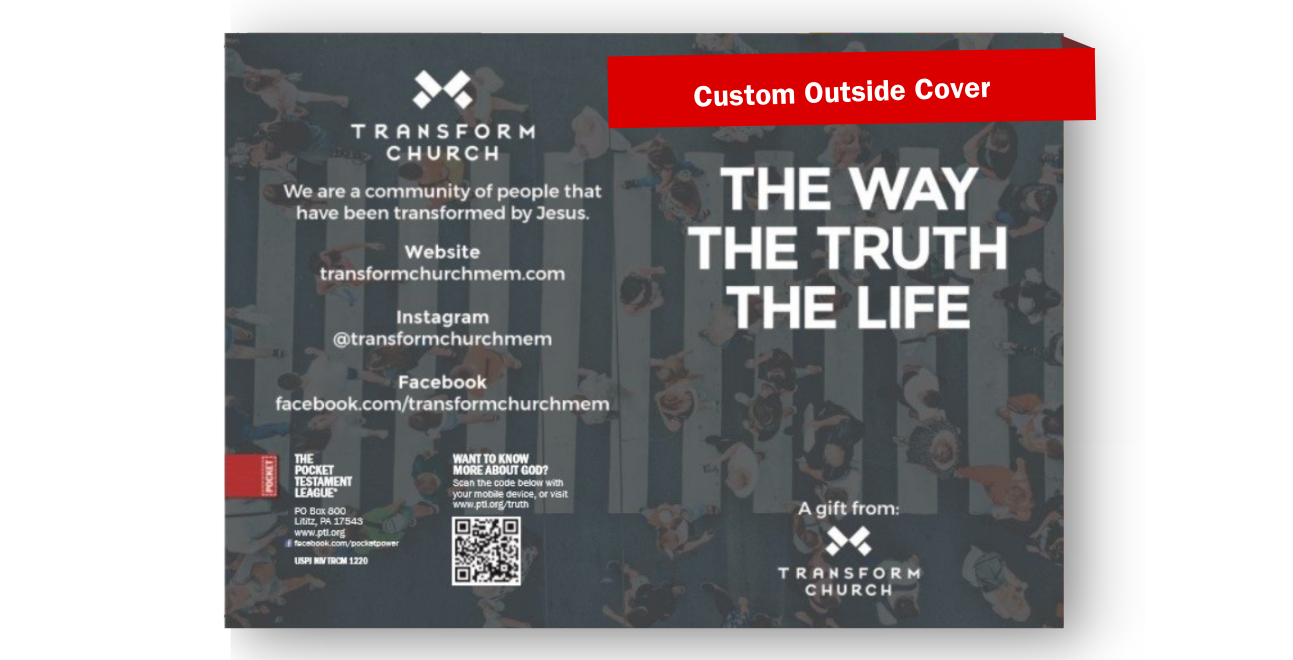 Ready to get started?
Fill out the form below and a member of our Partner Gospel team will be in touch right away.  
Please fill out the information below. We will be in contact with you to answer any questions you may have about our custom Gospels or to get your order started.
Interested in less than 500 custom Gospels?
If you're interested in less than 500 custom Gospels, we do offer a small design package that could be perfect for your small organization or ministry. Please email us at partnergospels@ptl.org or add a note below to find out more.